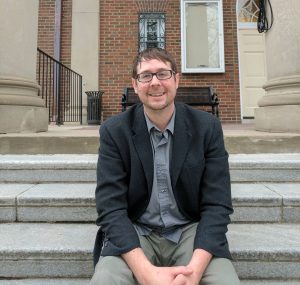 I'm Matt Vetter, Assistant Professor of English at Indiana University of Pennsylvania. I have formerly taught at Ohio University Zanesville as a Visiting Assistant Professor.
I earned a Ph.D. in English from Ohio University in the Spring of 2015. During my time there, I taught a variety of courses in writing and rhetoric and helped direct the writing program as Assistant Director of Composition. My dissertation project, Teaching Wikipedia: The Pedagogy and Politics of an Open Access Writing Community, focuses on opportunities provided by the encyclopedia for teaching writing while also working to interrogate its open access philosophy through an investigation of issues of access and representation. I have recently served as a graduate fellow at the Digital Rhetoric Collaborative and am currently an Associate Editor at Kairos: A Journal of Rhetoric, Technology, and Pedagogy.
As a scholar in writing, rhetoric, and digital humanities, I am interested in the ways that technologies shape writing and writing pedagogy. I am drawn toward investigations of the ideological and epistemological functions of technologies and digital communities and the possibilities for human intervention and praxis within those spaces. In my teaching, I seek out opportunities for students to write in venues where they can reach concrete audiences and come to understand how writing can effect real world change.
I also earned an M.A. in English from Morehead State University in 2010 and an MFA in Creative Writing from Spalding University in 2008. As a poet, my work has appeared in numerous national and regional literary journals including Midwest Quarterly, American Life in Poetry, The Louisville Review, and the Journal of Kentucky Studies. A Pushcart Prize and AWP Intro Award Nominee, I was the 2009 winner of the Danny Miller Memorial Award.
Contact: mvetter (at) iup (dot) edu
Academia Profile: https://iup.academia.edu/MatthewVetter
Goole Scholar: https://scholar.google.ca/citations?user=u_UKDHgAAAAJ&hl=en
Faculty Page: http://www.iup.edu/english/faculty/permanent-faculty/vetter,-matthew/
---
Digital Projects Portfolio
Vitae
Teaching
Research