Table of Contents
File Index | Teacher Training| Course Designs | Writing Assignments | Assessment | Student Evaluations | Research
Portfolio File Index
Teaching Philosophy
Graduate Courses
Undergraduate Writing Courses
Research Sample
Writing Assignments
Assessment
Administration
Diversity
Back to Table of Contents
Teaching Experience
Indiana University of Pennsylvania, Fall, 2016 — Present
English 101: Composition I
English 202: Composition II
English 220: Advanced Composition.
English 614: Critical Pedagogy in English Education
English 632: Composition Theory and Practice
English 730: Teaching Writing
English 808: Technology & Literacy
English 830: Teaching Writing
English 831: Rhetorical Traditions
English 846/881: Digital Rhetoric
Ohio University Zanesville, Fall, 2015 — Summer, 2016

English d150: Developmental Writing
English 1510, Writing & Rhetoric I
English 3080j, Writing & Rhetoric II
Ohio University, Fall 2010 — Summer, 2015

English 1510: Writing & Rhetoric I
English 3060j: Women & Writing
English 3080j: Writing & Rhetoric II
English 3840: Reading, Writing & Rhetoric in the Professions
Teaching Assistant, English 5890: Teaching College Writing
Teaching Assistant, English 7910: Professional Issues in Teaching College English
Morehead State University, Spring, 2009 — Spring, 2010

English 100: Writing I
Course Designs
Undergraduate Syllabi
Because I believe that English education should serve the purpose of civic and cultural participation, I employ the term "public pedagogy" to describe my teaching. Public pedagogy provides students opportunities to interact with communities beyond the the University for the purpose of effecting social change. In all of my courses, I ask students to engage critical uses of digital technology and to practice public writing that engages genuine audiences. I believe this is the best way for me to reach academic excellence in the teaching of writing, rhetoric, pedagogy, and technology.
Composition I – Writing Across Communities
Composition I – Digital Writing
Composition I – Writing in Wikipedia
Composition II – Research & Information Literacy in the Fake News Era
Back to Table of Contents
Graduate Syllabi
My graduate pedagogy engages innovative and critical uses of technology for the purposes of disciplinary practice and enculturation. I seek to provide my students, as future literacy educators, opportunities not only to be prepared to teach new digital literacy practices, but to use technology as a way to socialize and professionalize in their respective disciplines, fields, and future professions. I have experience designing and teaching graduate courses in the teaching of college writing, digital rhetoric, critical pedagogy in English education, composition theory, and rhetorical history and theory.
Teaching Writing (College Composition)
Composition Theory
Critical Pedagogy in English Education
Advanced Seminar in Literacy – Digital Rhetoric

Writing Assignments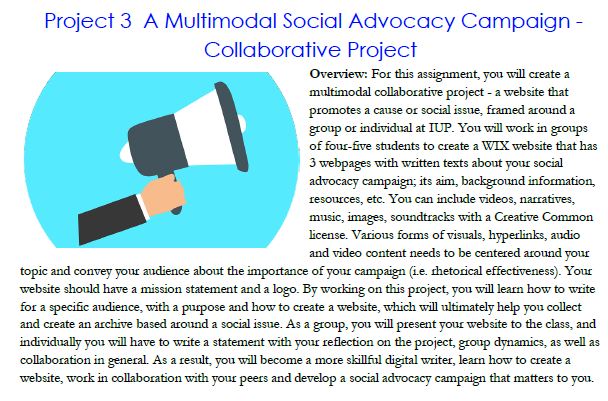 Composition I – Digital Writing – Major Assignment Sequence
Back to Table of Contents
Assessment
English 101 (Digital Writing) Contract Grading System
Back to Table of Contents
Student Evaluations
"Dr. Vetter was always up for the challenge. He gave us reasonable timelines for turning in projects. He also made conference sign-ups to go over our work. Best professor I have had at IUP!" – Fall '18 English 101 Student
"Dr. Vetter is passionate about writing and leads by example to better us all as writers in our future studies." – Fall '18 English 101 Student
"Dr. Vetter did an amazing job at offering support via emails and face-to-face conferences. He established a very personal and supportive role in this class and I feel very comfortable reaching out to him. He also planned very helpful workshops in class for us to get feedback. I also really enjoyed the blog posts we wrote weekly – it was a great opportunity for me to write to think and learn." – Fall '18 English 830 Teaching Writing Student
"Dr. Vetter is one of my favorite professors. His grading and assignment set-ups made this course really easy to understand. Discussion posts reflected what we talked about in class and his teaching method has improved has improved my writing and knowledge. I have become a better writer." – Spring '19 English 101 Student
"Dr. Vetter always makes his classroom [an] open, safe, and welcoming space. he is approachable and takes the time to allow students to explore their unique thoughts and areas of interest within his courses. Providing so many examples and having in-class workshops enhanced my learning experience." – Fall '19 English 730 (Teaching Writing) Student
Teacher Training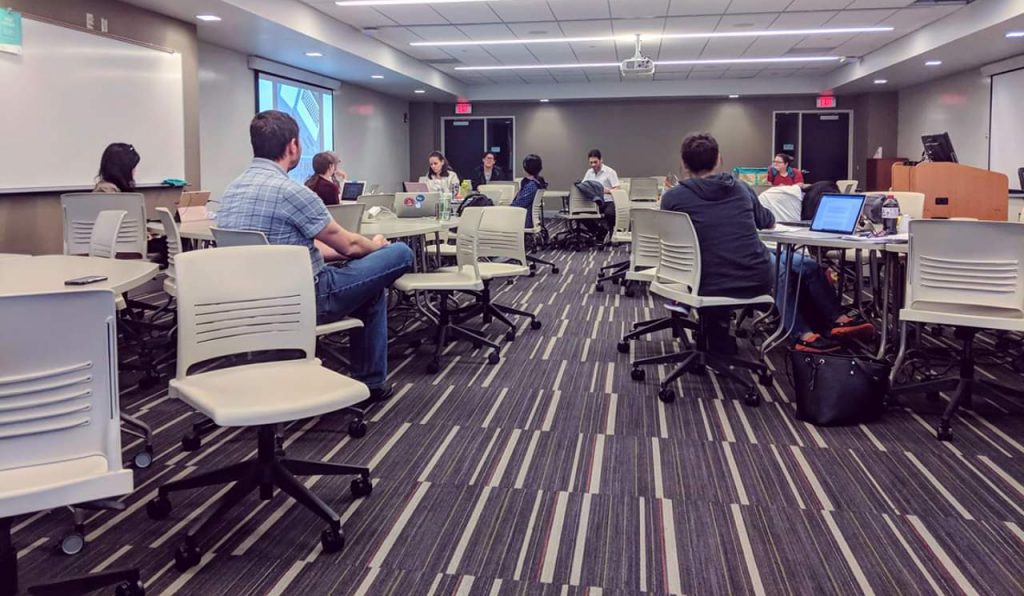 Feedback from Graduate Teaching Associates Regarding the Teacher Mentoring Program
"I loved the mentoring program and feel that I've made the most gains in my teaching effectiveness by being part of this program."
"All the meetings provided great support for my teaching. Despite my many years of university-level experiences, I have always felt these mentoring meetings are resourceful and productive. Thanks to the contributions of Drs. Vetter, [Redacted], and [Redacted]!"
"I participated in the large-group mentoring meeting once a month, and I met with my assigned mentor (Dr. Vetter) and another graduate instructor at least once a month. After Dr. Vetter observed my teaching, he met with me to discuss my observed class for 30-60 minutes. I really appreciate these large-group, small-group, and individual meetings. Personally, I enjoyed the individual meetings most, because these meetings focused on the lessons that Dr. Vetter had observed, so we could pinpoint specific things that I myself might not have noticed, or something that I had done on purpose and wanted to gain feedback on. In short, I enjoyed the customized nature of such meetings. I also like the small-group meetings when we discussed general challenges and trouble-shoot specific concerns, such as particular students at risk. Thank you, Dr. Vetter!"
Administrative Documents